Nicest Restaurants To Visit In Hamburg – Germany
If there's one thing Hamburg's mastered, it's top-notch seafood. We're not all that far from the North Sea here, after all, and for fish lovers, Hamburg is the ideal place to dine out. From the old-school Hanseatic elegance of Fischereihafen to Henssler & Henssler's cutting-edge Japanese plates, many of the best restaurants in Hamburg have a pleasingly fishy focus – and this is where to head to eat as the locals do. But if the idea of salmon or sashimi makes you squirm, don't fear. Firm local favourites Café Paris and Plat du Jour both offer exquisite French food and authentic brasserie charm; Lebanese star L'Orient seriously raises the falafel game; and Tyrolean locale Marend sets you up perfectly for a bar crawl in St Pauli with a hearty plate of dumplings. Mahlzeit!
Best restaurants in Hamburg
All the best restaurants require booking ahead and you'd be wise to follow that rule at Henssler und Henssler. After all, it's one of the best places to get Japanese food in Germany, let alone Hamburg. You'll find its starkly industrial exterior on Große Elbstraße, but rest assured the interior is neat and clean, coloured in reds, blacks and whites, and flanked by the open kitchen, which makes for a fascinating sight. In fact, if you want to get a good look, you can request a seat at the bar that runs alongside the kitchen. Cooked dishes of tempura or grilled fish and the sushi come out artfully presented and in bountiful portions.
s the name implies, this laid-back locale is more café than restaurant, but it wins a place on the list as a Schanzenviertel staple since the early '80s, when the now heavily gentrified neighbourhood still retained true counter-cultural credentials. It's a great place to stop by while exploring the area, with a classic run in continental breakfast platters, a small selection of soups at lunchtime and an impressive vitrine of Kuchen. The coffee is old school rather than third wave, the leather banquettes faded, and service is strikingly hit or miss, but if you're out for a classic German café with patina charm and an excellent stock of international papers, this is your place. Ask for the Apple strudel – it may not be on display in the vitrine but it's available every day. On sunny mornings, the terrace is lovely.
The clue's in the name here: [M]eatery unsurprisingly specialises in meat and boy do they do it well. Steak is the thing to go for, whether that be rib-eye, tartare or surfed by lobster. The cuts are chunky and the skinny fries are a perfect accompaniment. Plump burgers are also on the menu, alongside an array of tempting desserts. [M]eatery adjoins the five-star SIDE design hotel, where, during the summer, they host barbecues on the roof.
Tucked away off an uncharismatic main road, Le Plat du Jour has no big claims when it comes to location, but nevertheless enjoys a long-standing and loyal clientele, mostly led by its excellent word-of-mouth reputation. Right down to the red gingham napkins, it's a true brasserie experience, with all the snail, duck, rabbit and foie gras dishes you might expect. A great choice for anyone doing business lunch in Hamburg, Le Plat du Jour is equally jovial on a weekend evening, with warm wall lighting and a three-course dinner menu – if you have room for dessert, the profiteroles are a winner. Service is consistently great.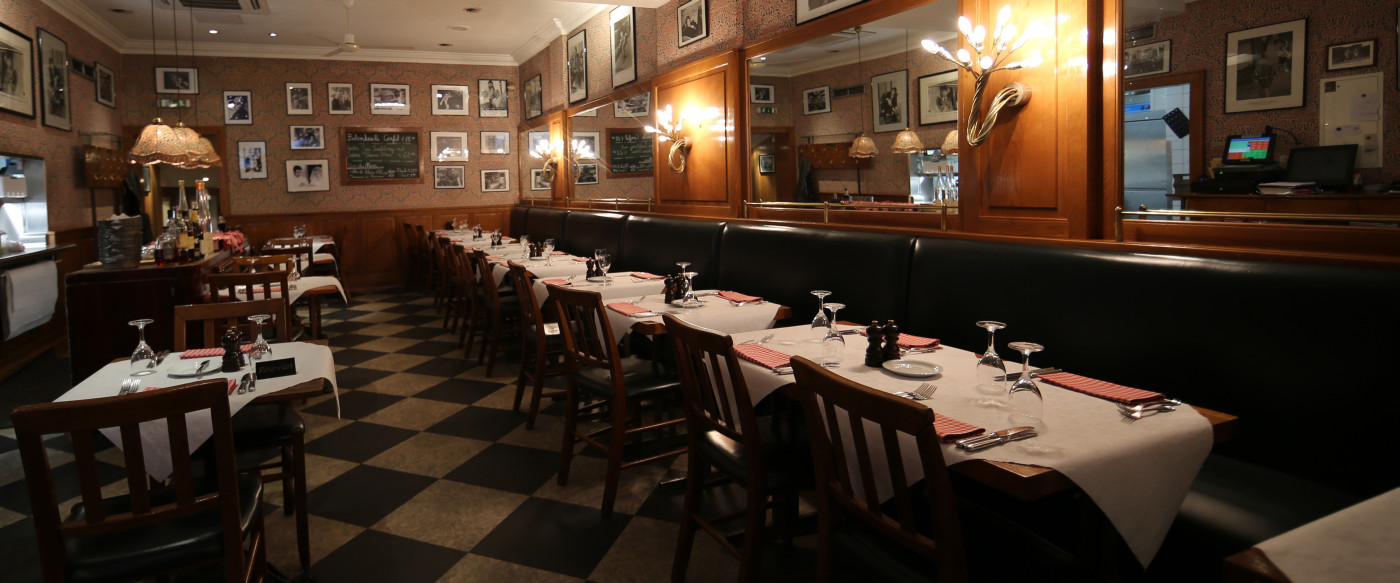 This is next-level falafel. Booking ahead is a must at L'Orient, an excellent Lebanese restaurant on Hamburg's northern Osterstraße thoroughfare. It's an ordinary street largely made up of banks, hairdressers, tanning salons and copy shops, but the food inside is quite something. Things kick off with the spectacular mezze, delivering phenomenal flavours in individually-dished delights; for many, a generous meal in itself. Mains include meat, fish and vegetarian options, each beautifully aromatic, from duck breast on fig carpaccio with walnut-anise sauce to the spicy aubergine casserole with dates, almonds, raisins and pomegranate. Even when it's super-busy, service is warm, gracious and very accommodating of any dietary needs.
7. Fischereihafen Hamburg
Huge schnitzel, chilled beer, no-nonsense service, all-night opening hours: Erika's is a Sternschanze institution, serving up giant portions from 5pm to 2pm the next day, or 9am at weekends. With hours like these, it's a natural favourite for the post-club crowd, who roll in around sunrise in desperate need of a salutary dose of carbs. Don't come here for the décor – musty carpet, dark wood, game machines – and don't expect vast gastronomic choice; the biggest decision here is how to take your schnitzel, whether with mushrooms, fried egg, pepper sauce or 'Hawaii'-style with pineapple and cheese. Note that Erika's is a place of proud neighbourhood tradition and staff don't always take kindly to drunk and rowdy tourists. Try to be polite and patient, and try to speak at least a little German.
Tyrolean restaurant Marend may look on to the flashing neon and screeching roller coasters of the Hamburger Dom fun fair, but inside it's all soft lamps and candlelight, simple pinewood furnishings and flowers as diminutive and delicate as an Alpine posy. The menu is slim; the dishes are not. Hearty mountain Knödel (dumplings) are the name of the game here, with a simple choice between cheese, spinach and beetroot flavours, each served with a crunchy side salad. It's perfect stomach-lining fodder before a night out in neighbouring St Pauli, but Marend is just as popular for cosy date nights and relaxed group get-togethers at the central table. If you do want to hit the town after dinner, the imposing grey stone building across the road was once an overground bunker and is now home to the hot (in every sense) Uebel und Gefährlich club and gig venue.